Welcome to our site US! Shipping our traditional gnomes to your country can be much more reasonable than you may think. Please see our note on the shopping cart.
Windmills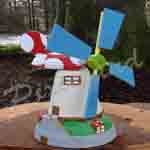 Our Classic Garden Ornament - Windmills. We make concrete windmills for your garden. One of our Windmills has blades and a top that turns and rotates in the wind when placed in any location in your garden. The other Windmill has blades that rotate if placed in your garden with the wind directed towards the blades. These enchanting detailed windmills add a bit of countryside and olden time to your garden. These are our traditional range that has been made by hand, for over 70yrs at Pixieland. A perfect addition to your garden and also a wonderful unique gift.
Windmill - Our windmill is made here at Pixieland. It is unique that the tops swivels so that it turns 360 degrees, allowing it to turn with the wind at any angle. Details - Height (with blades)

This is made from wood and painted in the same paint as the Pixie's, It is the replacment sail for the rear on the windmill pot.

These are made at Pixieland and are replacment for the windmill that is also from us.